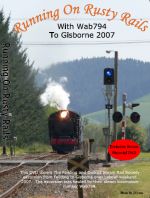 In October 2007 Wab794 ran a extending Labour weekend excursion to Gisborne and return a distance of over 800kilometres. The DVD covers the entire journey and has line side and on train views, interviews with passengers and crew, running time 77 minutes.
This is a two DVD set, and includes a bonus pictorial DVD made by Stuart Anderson, which runs for 53 minutes.
The DVD was produced by Feilding and Districts Steam Rail Society members Mike Prior and Janine Evans.